Despite being smaller than other islands in the Azores like São Miguel or Pico, there is a fairly decent number of beaches and natural pools in Faial, one white sandy beach, a handful of black sand stretches and a bunch of natural or semi-natural pools (sheltered by lava rocks and/or some artificial work done over the years) that should be enough for almost every traveller's relax, sunbathing and swimming needs.
Here is a list of (almost) all the beaches and natural pools in Faial:
Beaches
1 – Porto Pim
Perhaps the only proper white sandy beach in the whole Azores Islands, Porto Pim is naturally sheltered from currents and winds by the adjacent Monte Queimado and Monte da Guia which is connected to the main island by a curved isthmus that forms a bay which is only open to the ocean by southwest, making it calm and perfect for beginners or unexperienced swimmers.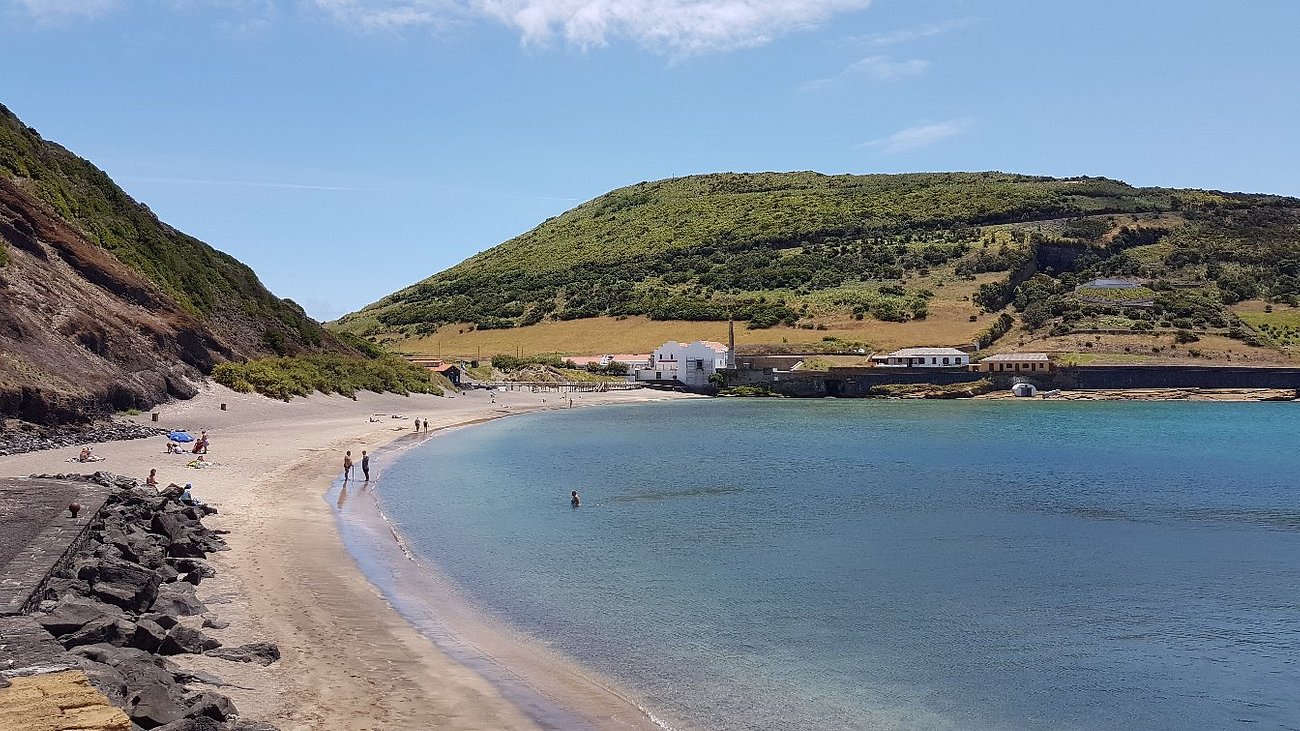 2 – Praia do Almoxarife
Another long stretch of sand (black) just 5 minutes outside Horta, Praia do Almoxarife is a favourite amongst locals and is a surf spot too; it has a couple of good restaurants and a cozy beach bar next to it. There is also a public camping (free). On a clear day you can see Pico Mountain in all its magnificent beauty.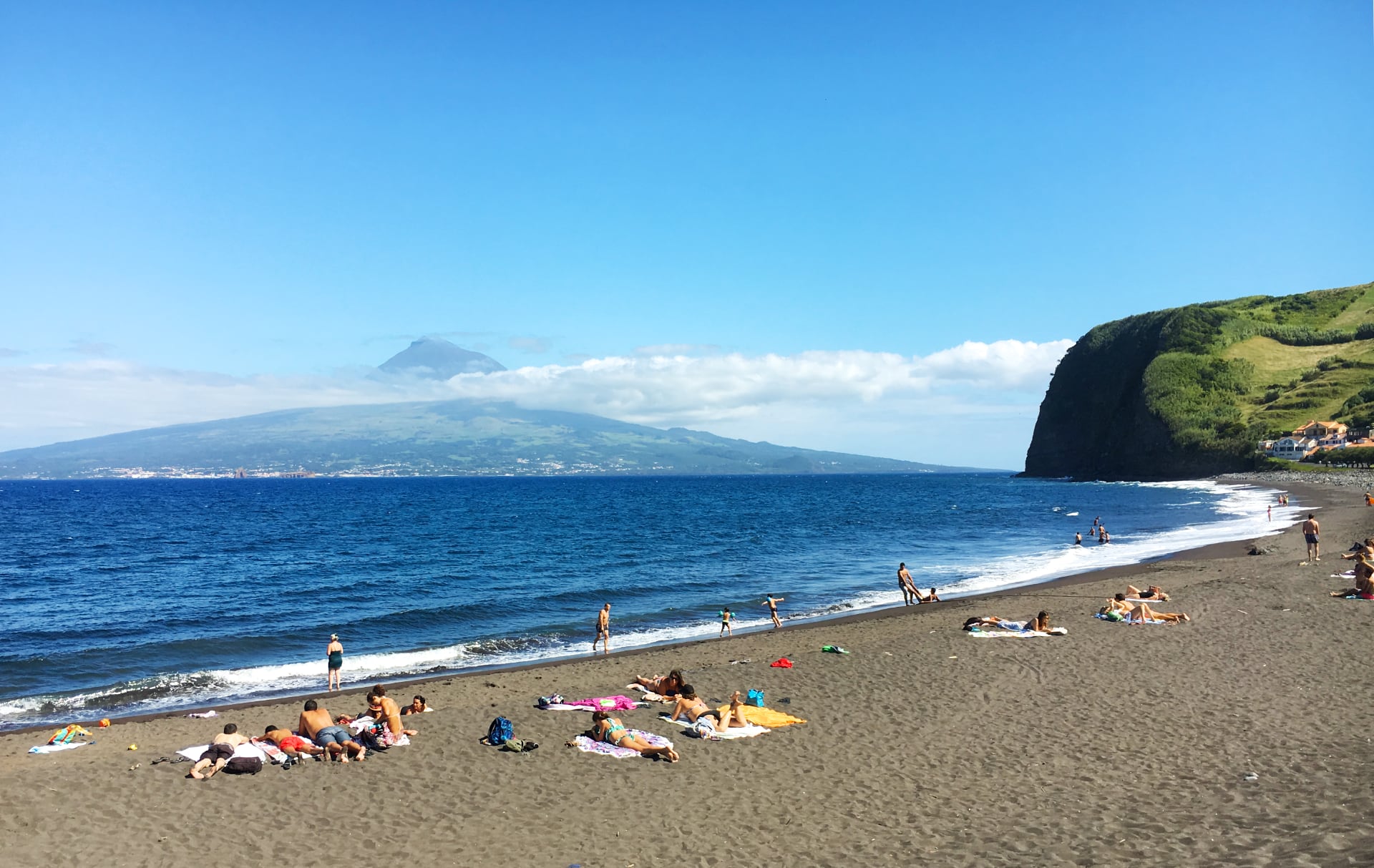 3 – Praia do Norte
Situated on the north side of Faial, hence the name, Praia do Norte is a wild stretch of black sandy beach sheltered from south by tall cliffs. It is a major surf spot, and bathing here can be a bit tricky because of the big waves that batters the beach. Expert swimmers should be ok with it but it is one of those places where the currents require to be extra careful. Even if you don't feel like trying the ocean, the landscape is spectacular and makes it a very enjoyable walk.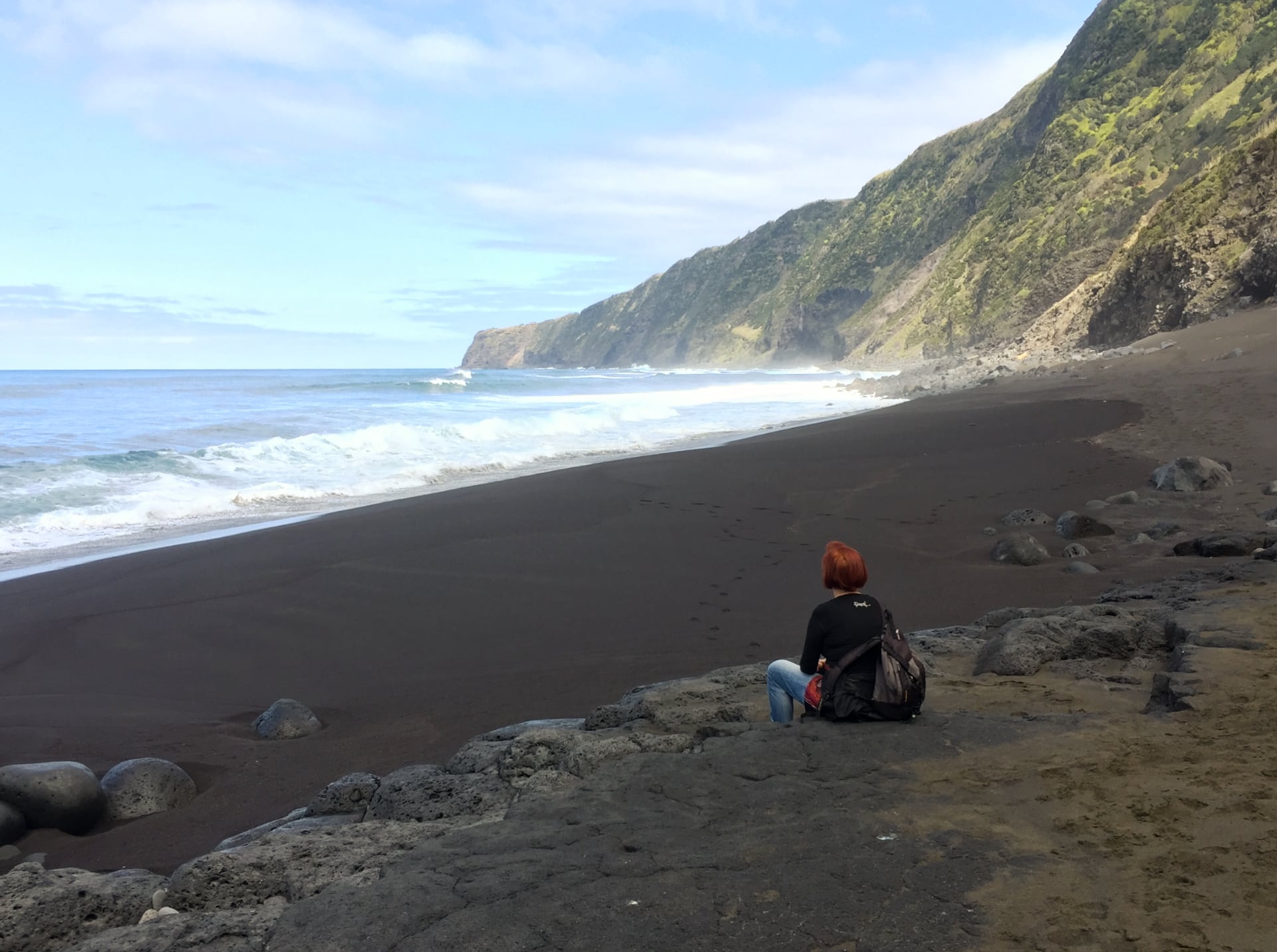 4 – Praia da Conceiçao (also known as Praia da Alagoa)
A small but cute black sandy beach next to the ferry terminal, often overlooked by tourists because of its position in the corner of Horta Bay. It's a nice spot, surrounded by the trees of the Alagoa Park, where families go on weekends to relax and have barbecue together. In the same area, practically next to the beach you will find the municipal swimming pool, which can be a good alternative if the weather and/or the sea is rough. Later in the afternoon you can also enjoy some food at a bunch of food-trucks that station inside the park, especially at "La Piovra" where you can get real Italian Pizza!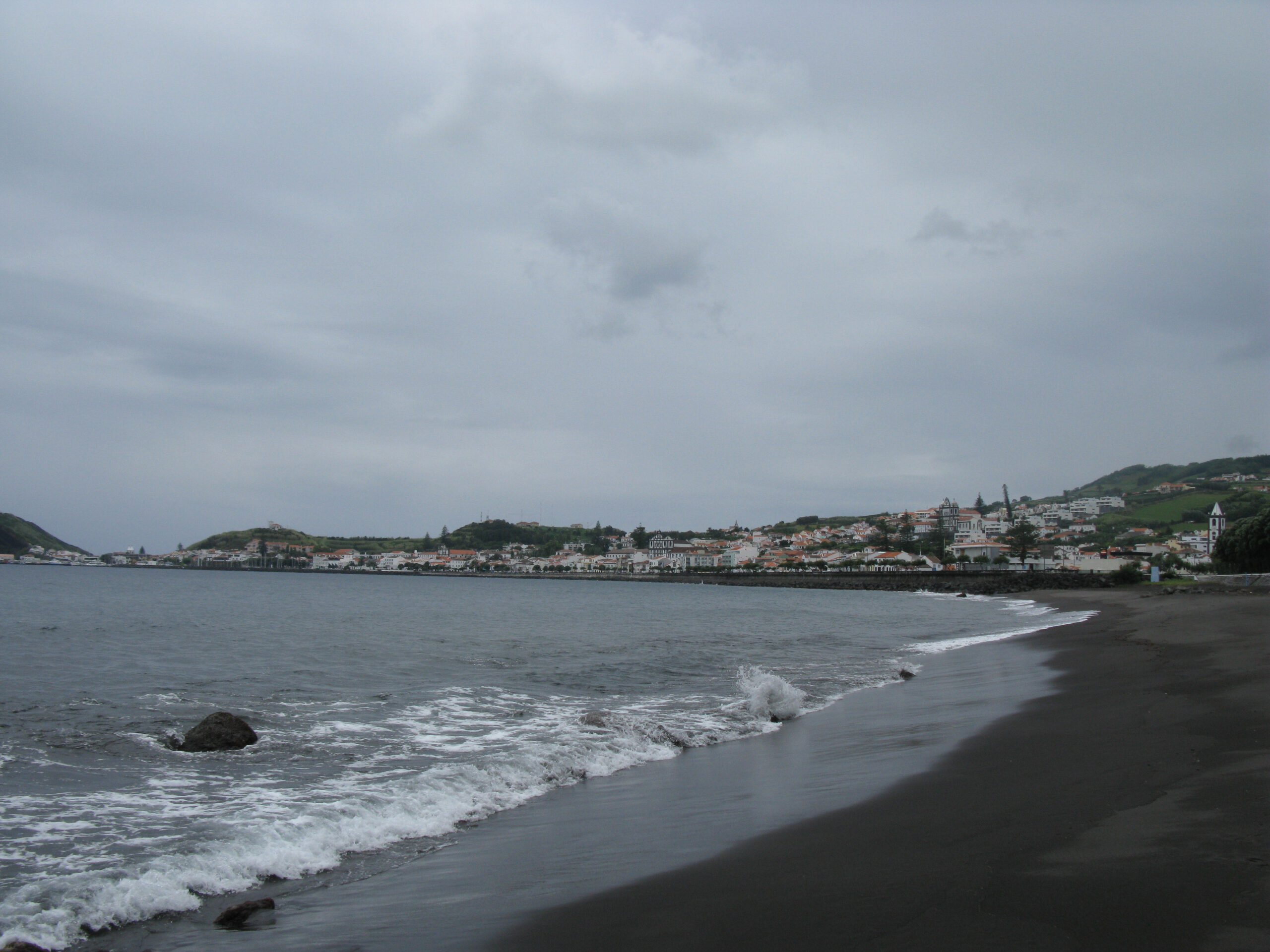 5 – Feteira
The freguesia (civil parish) of Feteira has two main spots for swim and sunbathing, one close to the small port and the other a couple of km towards Horta.
The one closest to the village is well sheltered and easy to reach, good also for beginners. It has a small but cozy beach and has a restaurant (Salguerinha) and a bar (Café Vista do Porto) next to it.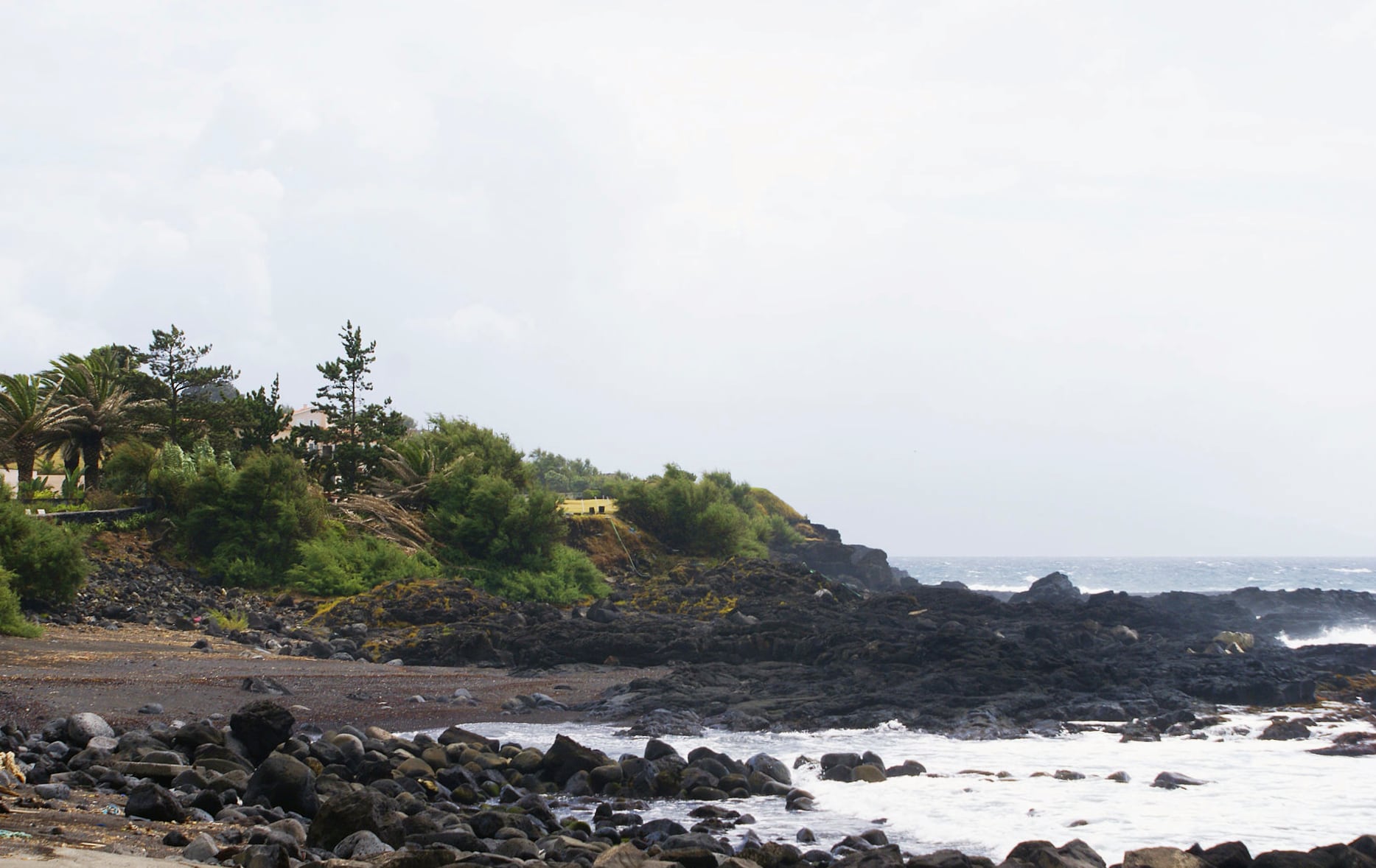 The other spot, Poça da Rainha,  which actually falls into the Natural Pools category, is on the right side of the road when driving toward Horta about halfway betwwen Feteria and Angustias. You will notice on summer's days the cars on the parking lot next to it. From there a long stairs leads to the pools. It is a favourite amongst locals and usually kind of packed on weekends.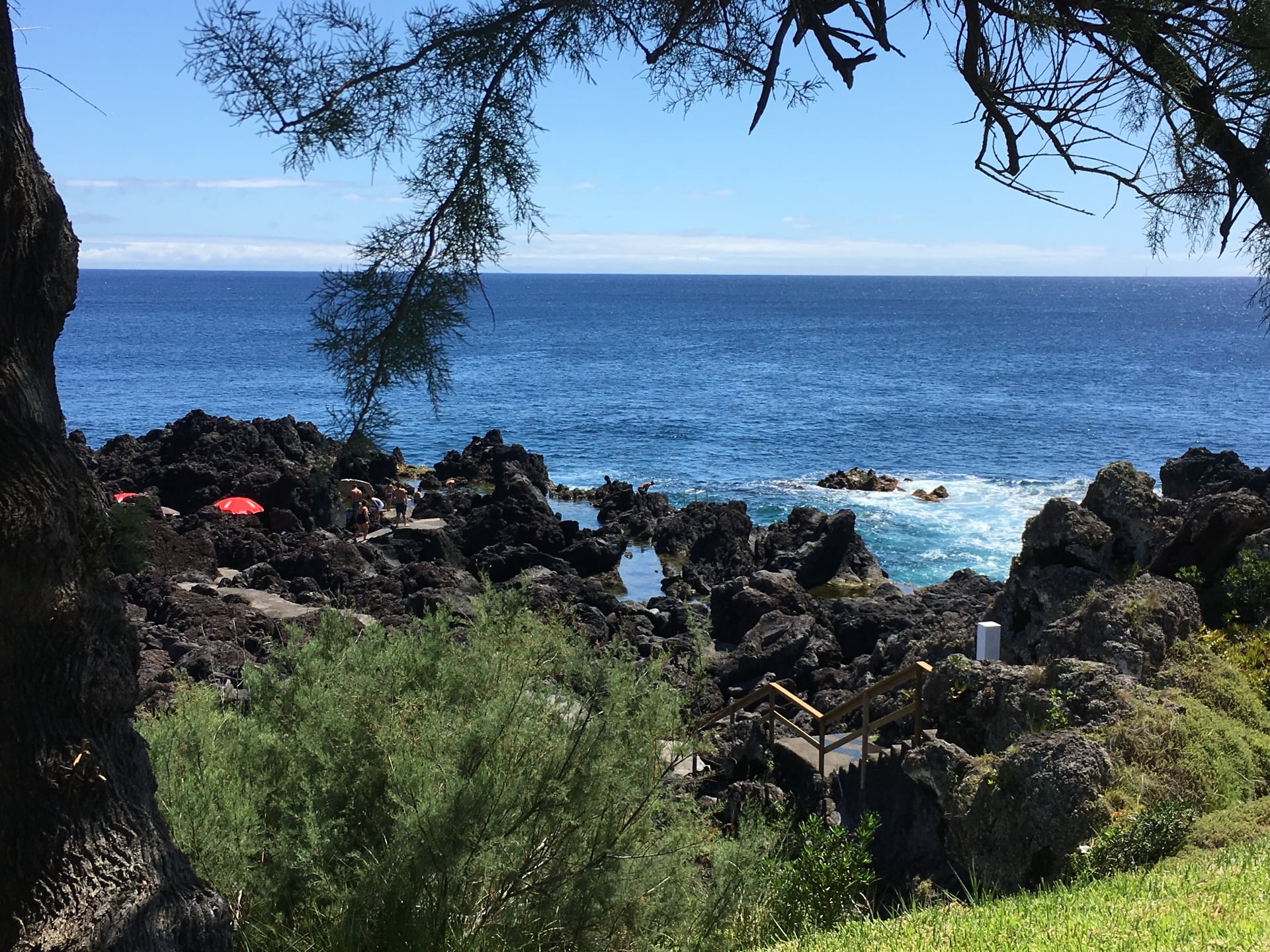 Natural Pools
1 – Varadouro
An ancient lava flows created a series of natural pools in Varadouro, perhaps the most famous of all the natural pool spots in Faial, due to the fact that it has facilities like showers, bathroom, lifeguards (in summer), a nice bar and a couple of restaurants nearby. Varadouro is a nice village, where villas are being built here and there as it has become a favourite amongst expats and wealthy locals. Still, the place retains a relaxed atmosphere, especially during week days, while on summer's weekend can be a bit packed. Definitely worth the hassle, though!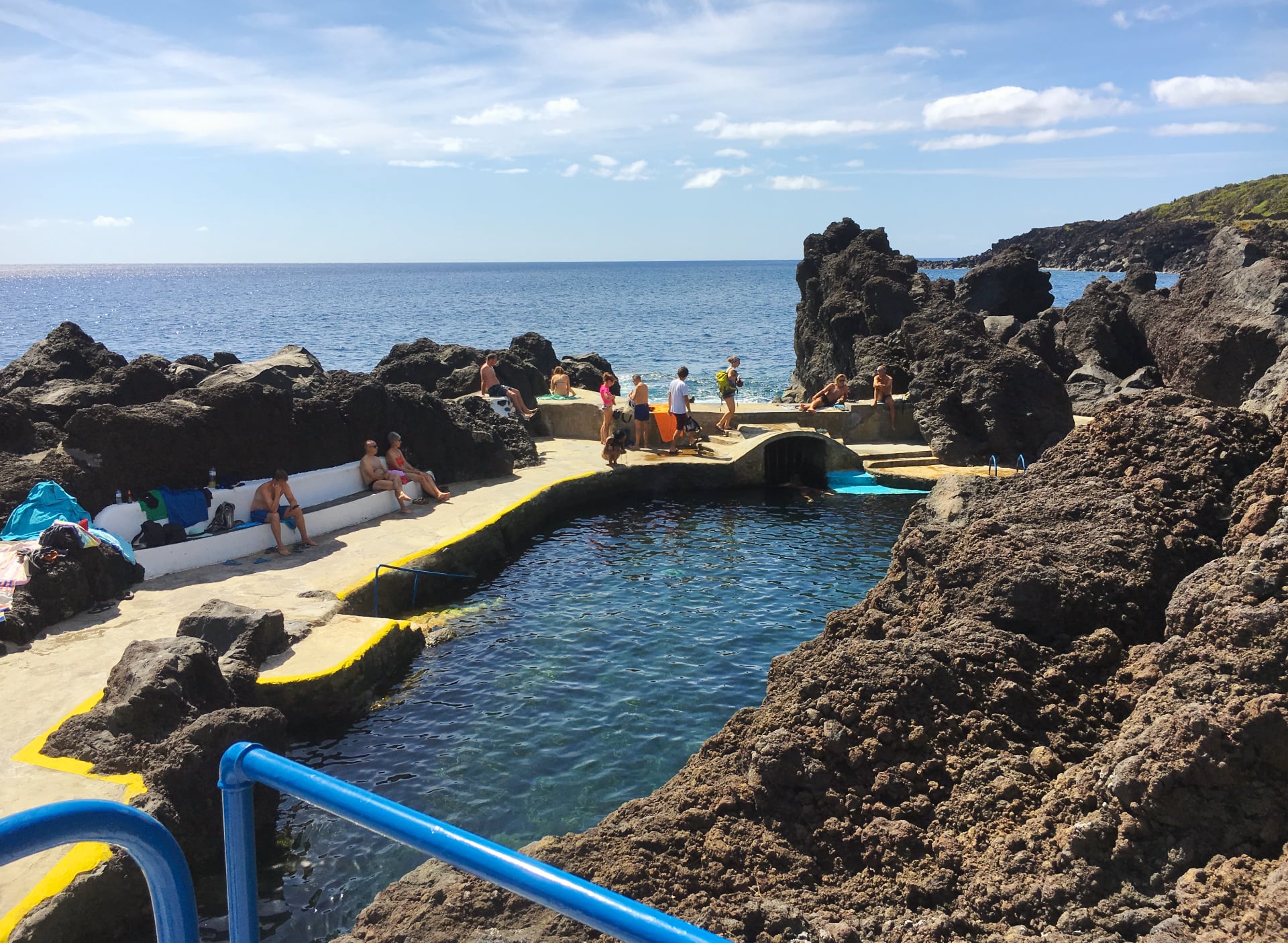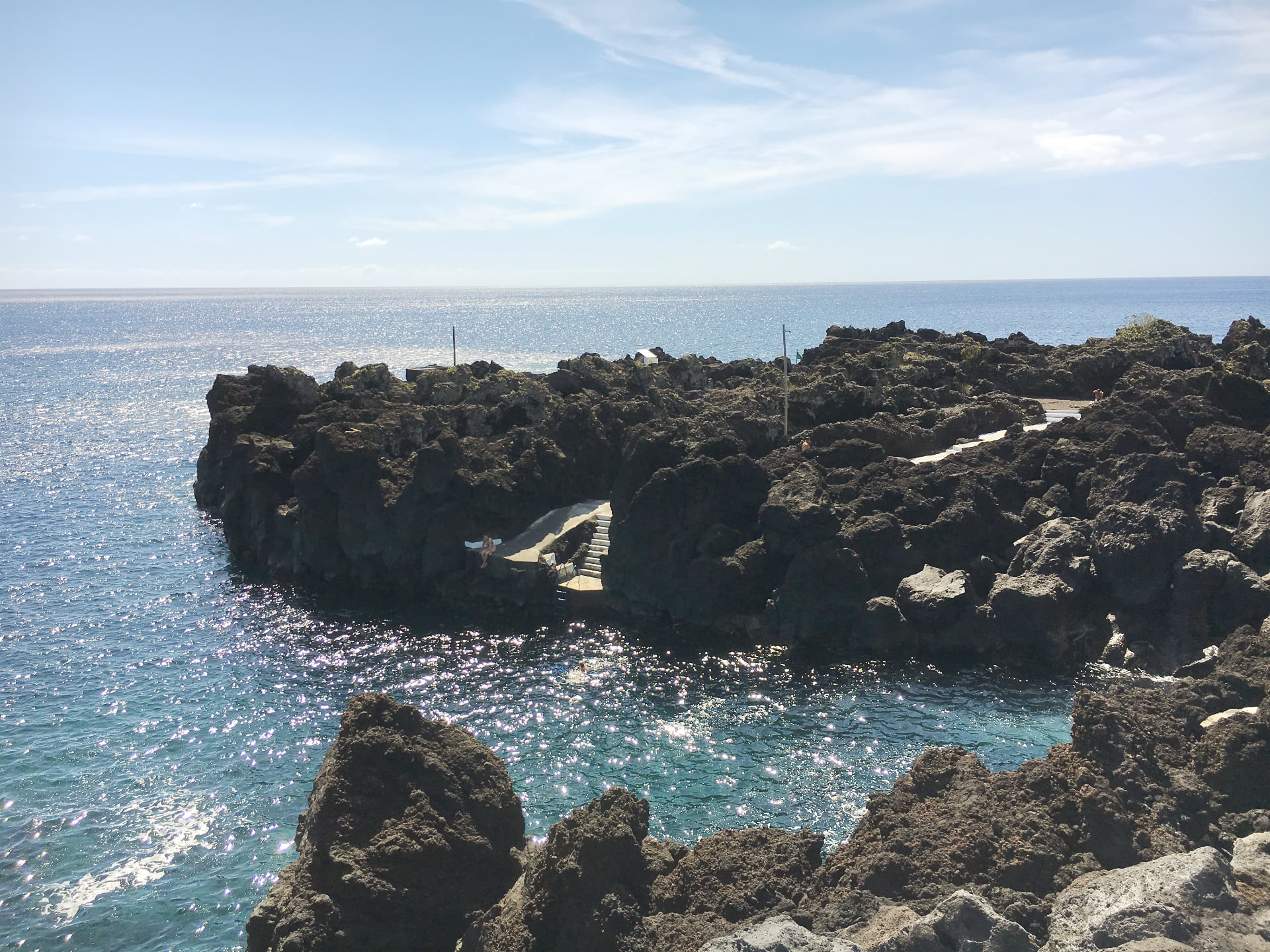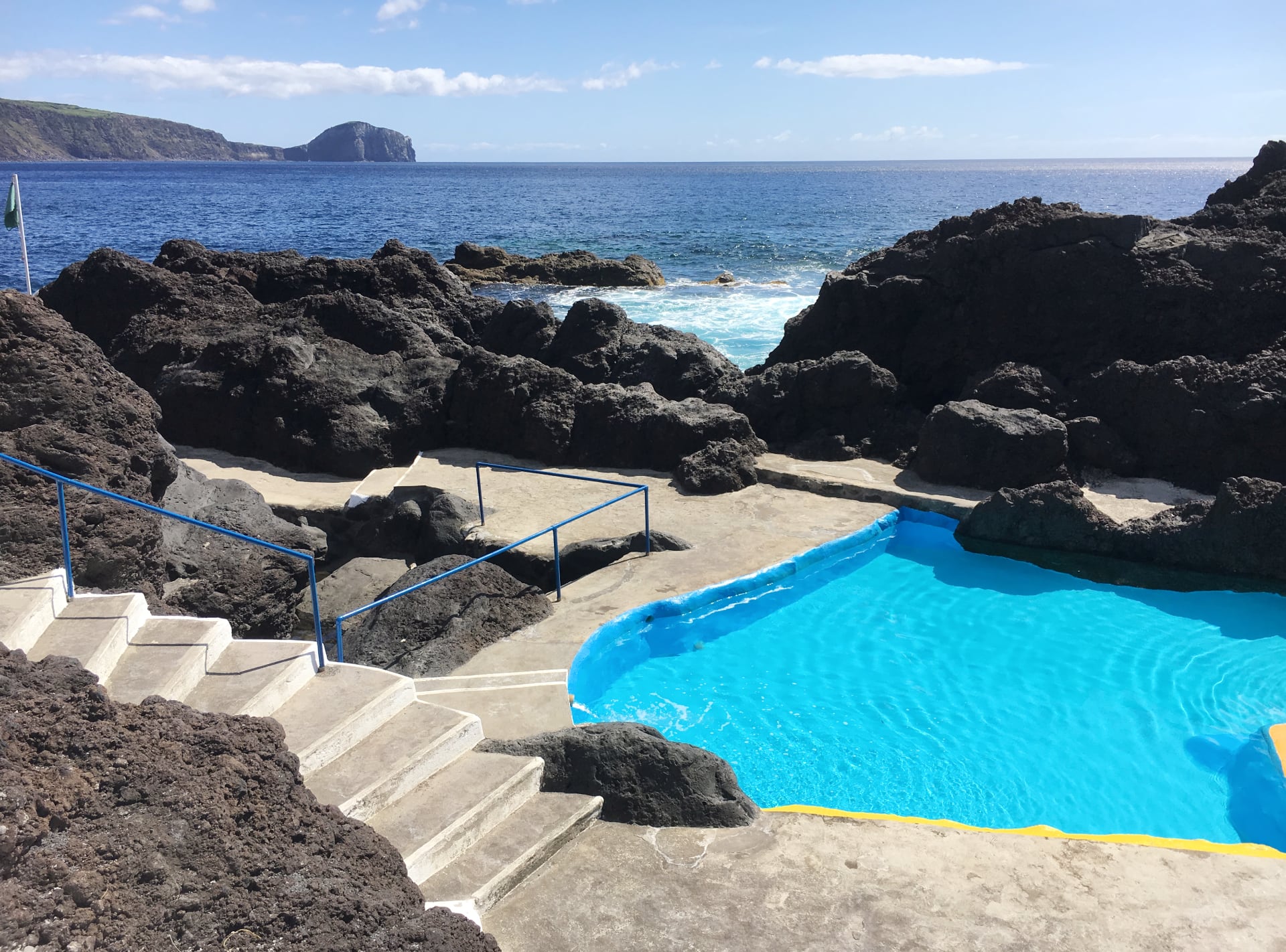 2 – Castelo Branco
From the parish of Castelo Branco, a small paved road leads to this well organised bathing facility, where a copule of big, semi-natural pools reinforced with cement create a nice spot for bathing in full safety. Due to this, it is a favourite amongst local and expats families. Lifeguards are on duty here during all summer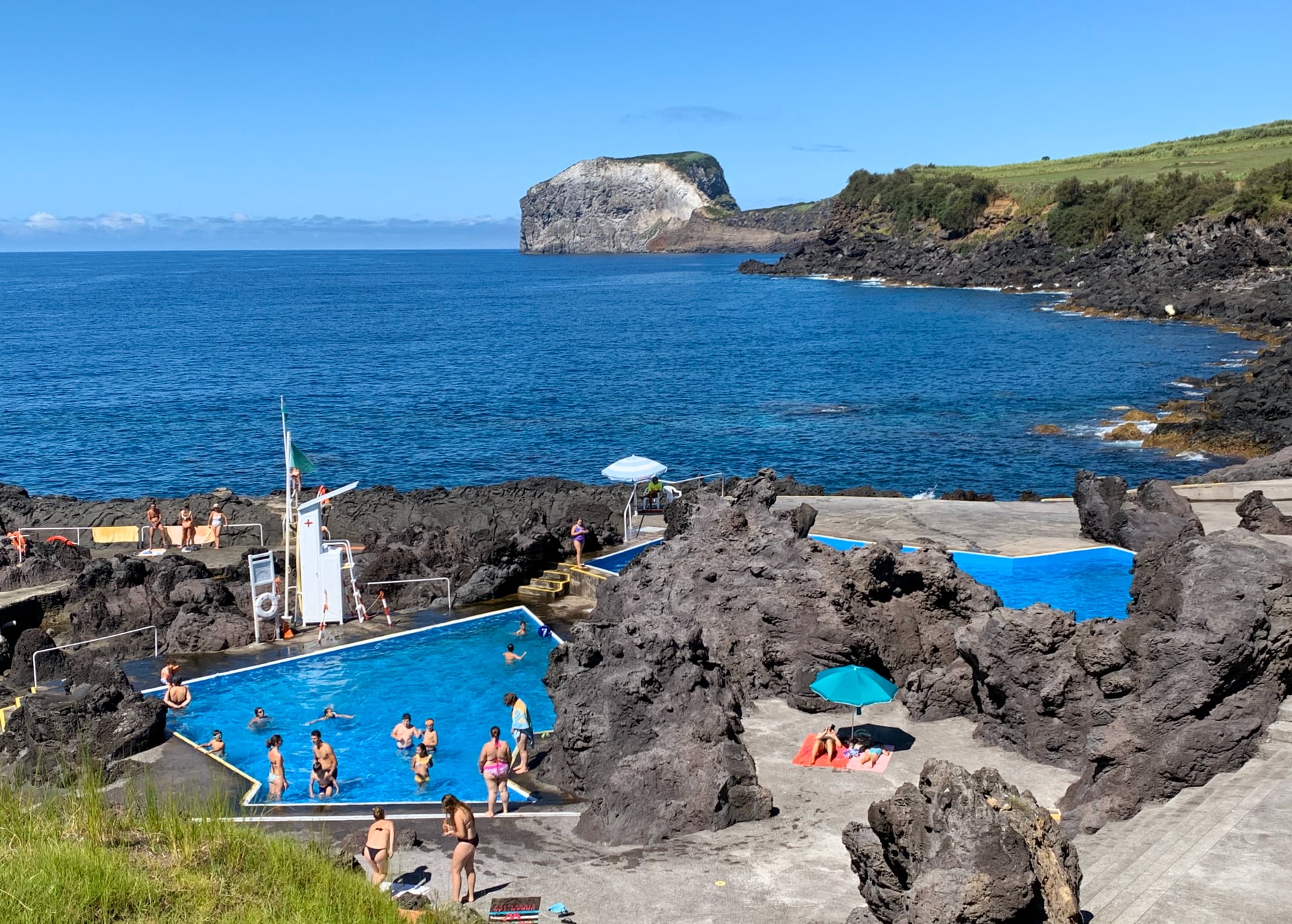 3 – Porto do Comprido
Once a fishing port for whalers, Porto do Comprido has a couple of easy natural sheltered pools, in a spectacular location next to Capelinhos Volcano, in Capelo, on the south west coast of Faial. There are basic facilities, like stairs and a couple of fresh water showers. It is a fantastic spot to spend sunny days, as it is often overlooked by tourists who come here for the Volcano itself, and by locals who find it easier to go in other locations closer to Horta.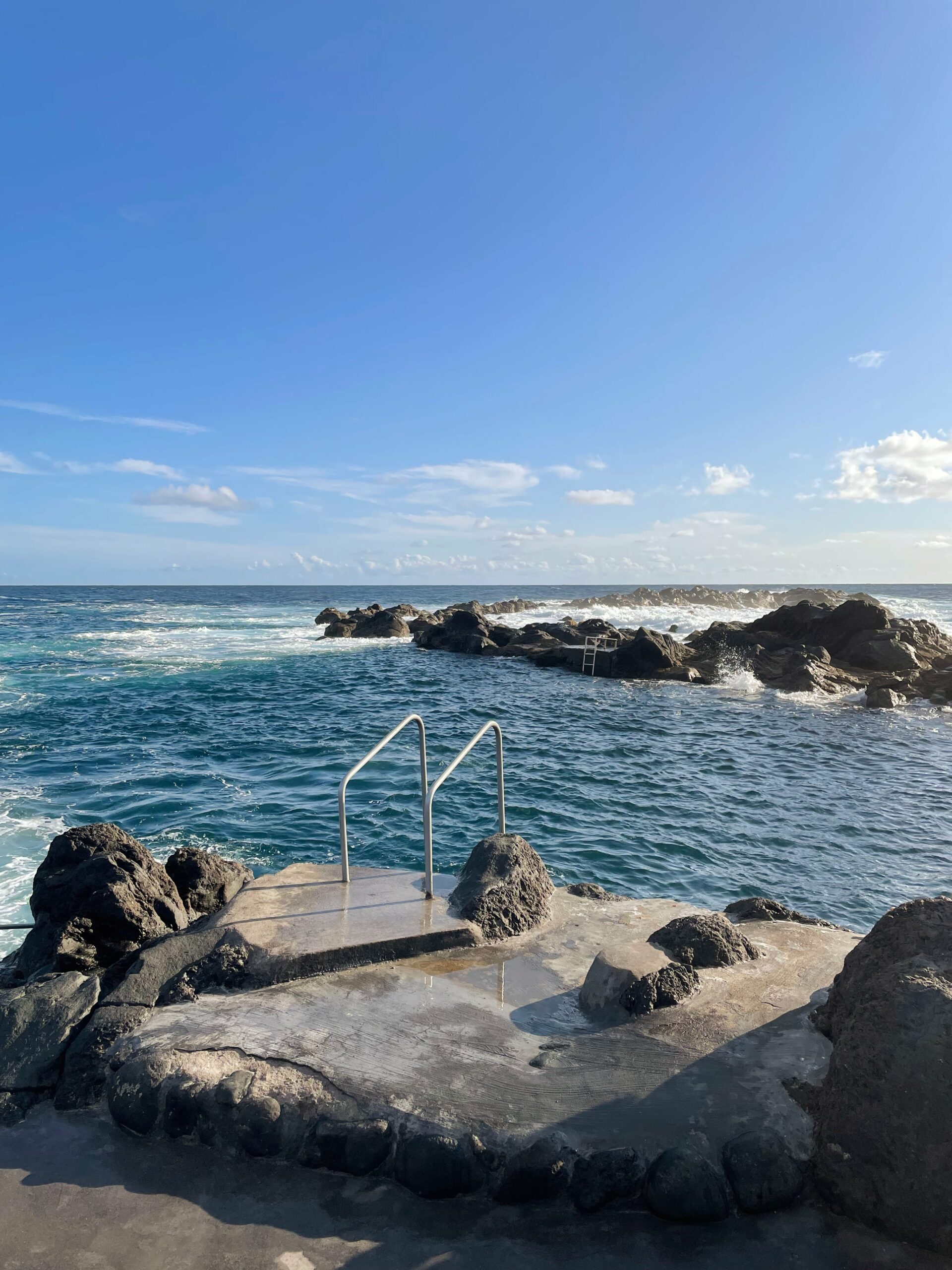 4 – Porto da Eira
Porto da Eira is located in Cedros, and together with Porto do Salão and Boca da Ribeira is one of the three options for swimming in the more rugged north coast of Faial. Coming down from the regional road, you'll find the sign leading through a small paved road to a large parking lot with a restaurant/bar (closed at the moment of writing due to Covid disruption). Then, a steep but fascinating staircase cut through the lava rocks leads to a series of pools where you can enjoy the sensation of swimming in the Ocean in safety. Again, all these natural pools except Varadouro and Castelo Branco are unattended and you need to be careful and cautious as the swells can be dangerous in windy days.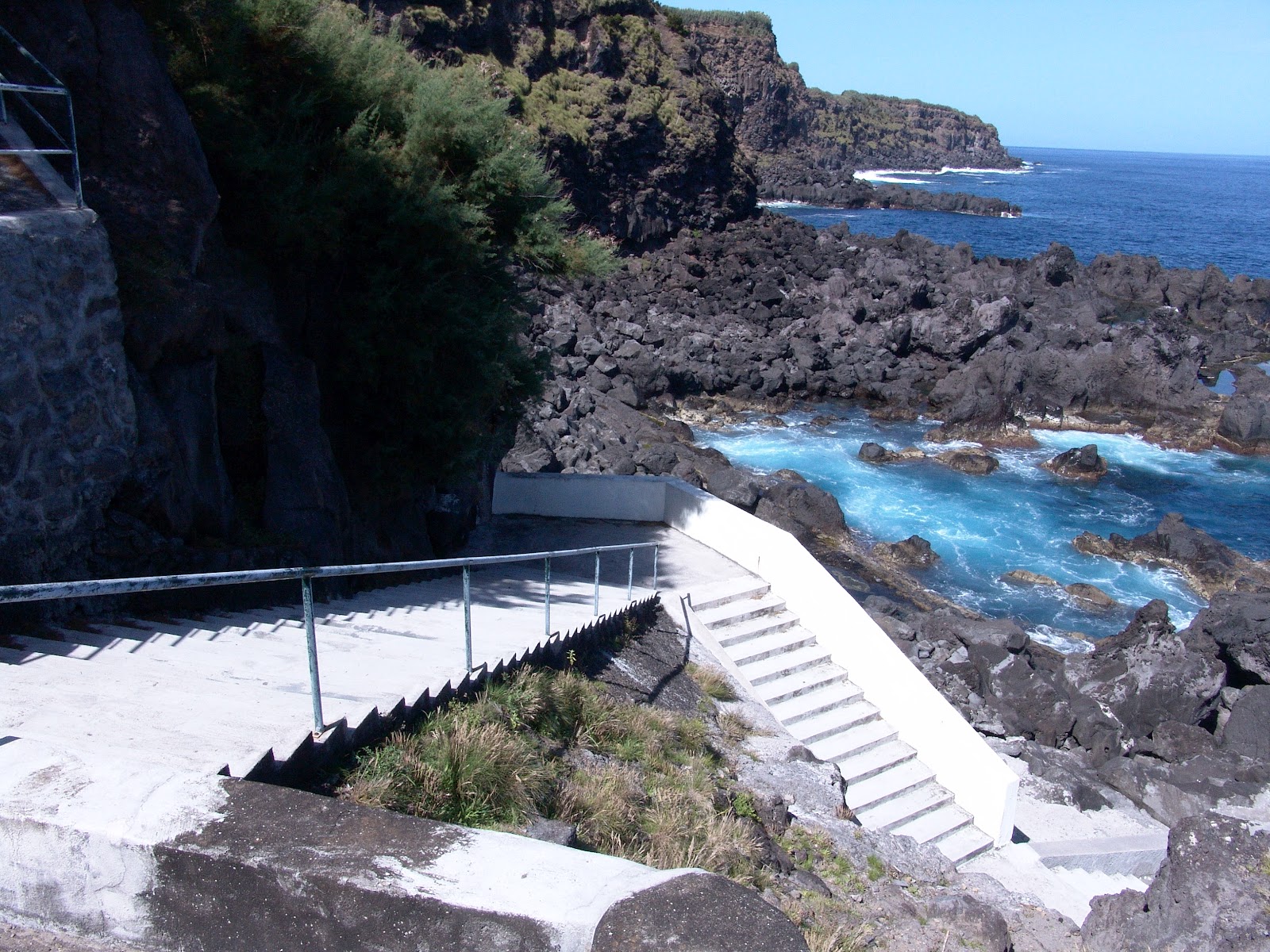 5 – Porto do Salão
Located in Salão, on the north coast of Faial, it has a free camping, and a long staircase leading to the ancient fishing port, with rocks creating a set of swimming pools. Like Porto da Eira, you need to check the ocean condition as it can be rough sometimes. Otherwise it is a pleasant swimming spot with views on São Jorge and Graciosa Islands.

6 – Boca da Ribeira (Riberinha)
Located in the parish of Riberinha, Boca da Ribeira is yet another small fishing port that offers a couple of beautiful natural pools and basi facilities (open air showers, bathrooms, picnic tables)
The location is spectacular, from here you can see the cliffs overlooking the east coast of Faial and of course Pico right in front of you. Enough to spend a nice day of relax.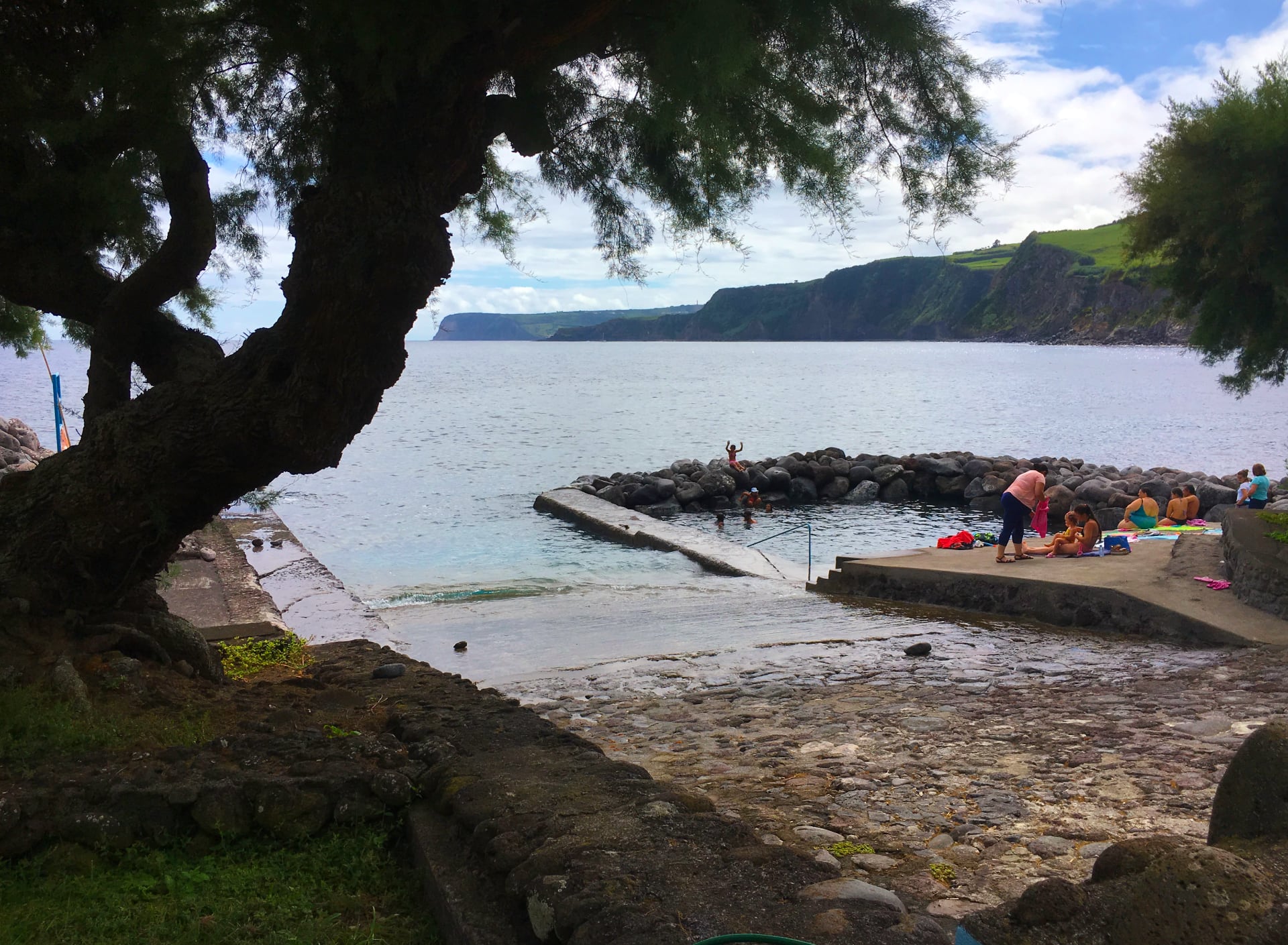 We hope you enjoyed reading about the beaches and natural pools in Faial, now it's time to make the decision and come visit the Azores!